Florence Chambabulele, final year student of Agribusiness Management at Mulungushi University
As an agribusiness student, I experienced a life-changing learning event as problem-based learning advocate.
My visit to the RUFORUM meeting was part of the HAMK coordinated PBL-BioAfrica project that strengthens Kenya's and Zambia's higher education by promoting problem-based learning (PBL) and providing real-life based learning experiences to students. HAMK Africa projects actively cooperate with RUFORUM, a network of 129 African agricultural higher education institutions (HEIs), to upscale modern teaching and learning methods to HEIs around Africa.
This was my first time attending such a magnificent event, and so I had many expectations. I was excited to get practical experience and opportunities for networking. This differed a lot from my usual learning experience of sitting in the classroom and listening to lectures.
Great experiences at the conference
My interaction with other students began right upon arriving in Harare. During the whole conference, I attended multiple different sessions such as R-programming training, scientific and innovation sessions, young women mentorship, entrepreneurship mentorship clinic, and many more.
However, my greatest experience was working on the PBL stand in the exhibition hall, where I interact with people and distributed brochures. Although I did not have an independent stand for PBL, I was able to set my own PBL "office" (Figure 1) on the university of Zambia's stand, where my rollers were set.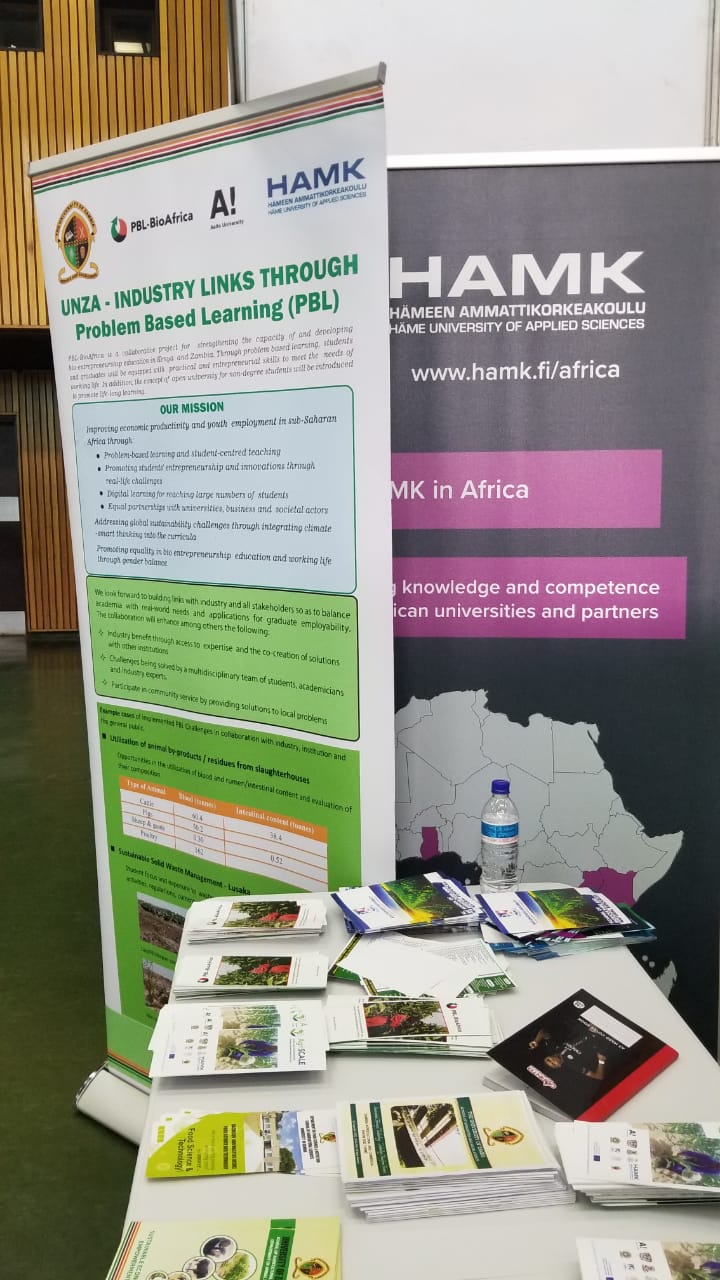 It was my first time exhibiting and interacting with so many people. I felt nervous, but as more and more people kept coming to my stand, I was able to pull myself together and attended to all my clients bravely. I happily and confidently announced the problem-based learning approach to the people visiting my stand.
Please read the story here
Authors
Florence Chambabulele, final year student of Agribusiness Management at Mulungushi University
Satu Määttänen, Research assistant in HAMK Bio
for more information about students projects under PBL-BioAfrica please visit: https://www.pbl-bioafrica.net/